Elope in Scotland –

Your Ultimate Guide for

 planning your Scotland Elopement
Everything you need to know to plan your scotland elopement
It's so exciting that you're thinking of eloping to Scotland! I'm sure you're dreaming of romantic castles, stunning mountains, and gorgeous valleys. But, maybe the reality of planning the elopement is overwhelming, Don't panic; I have everything you need to plan your dream elopement in a stress-free way that is unique and meaningful to you!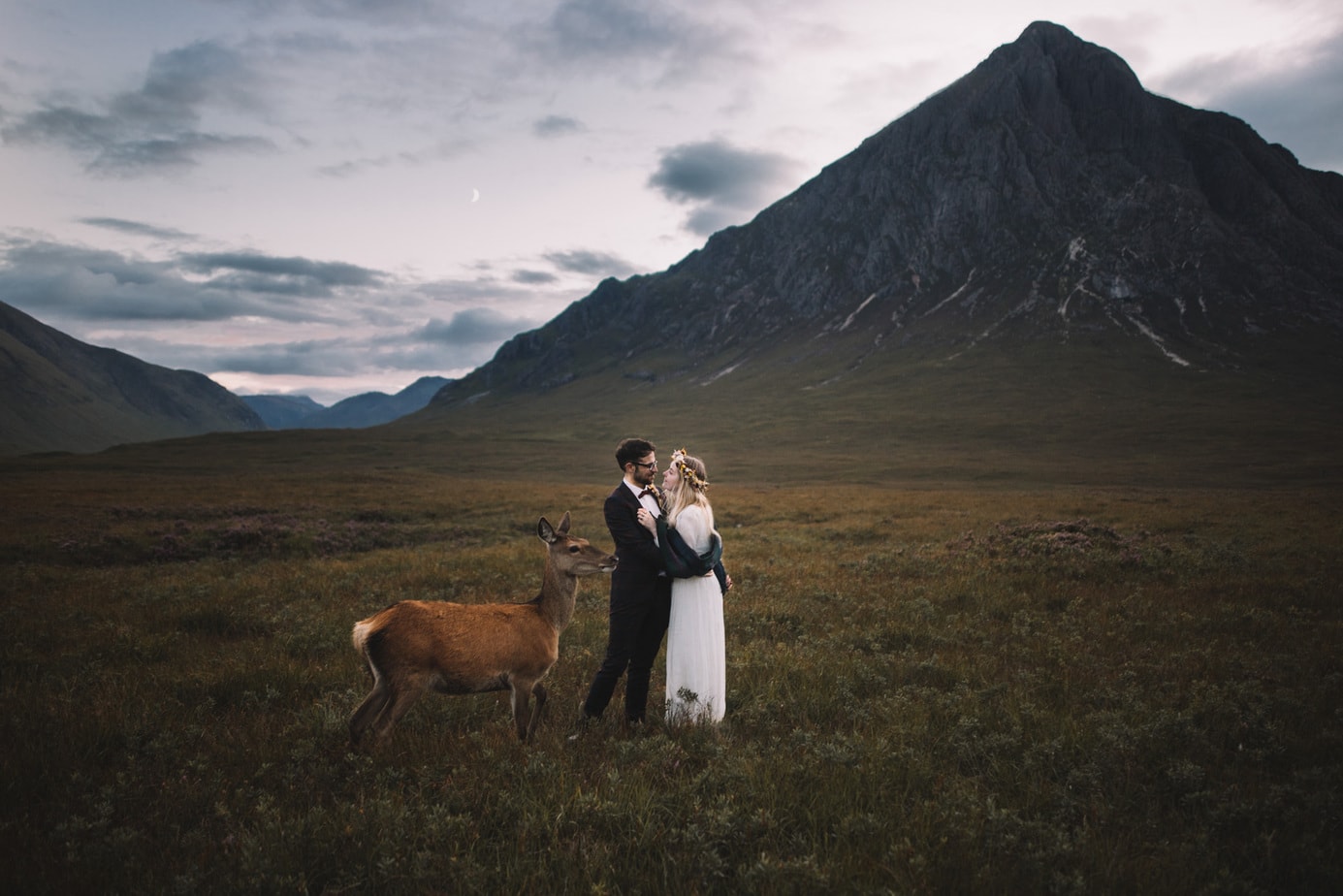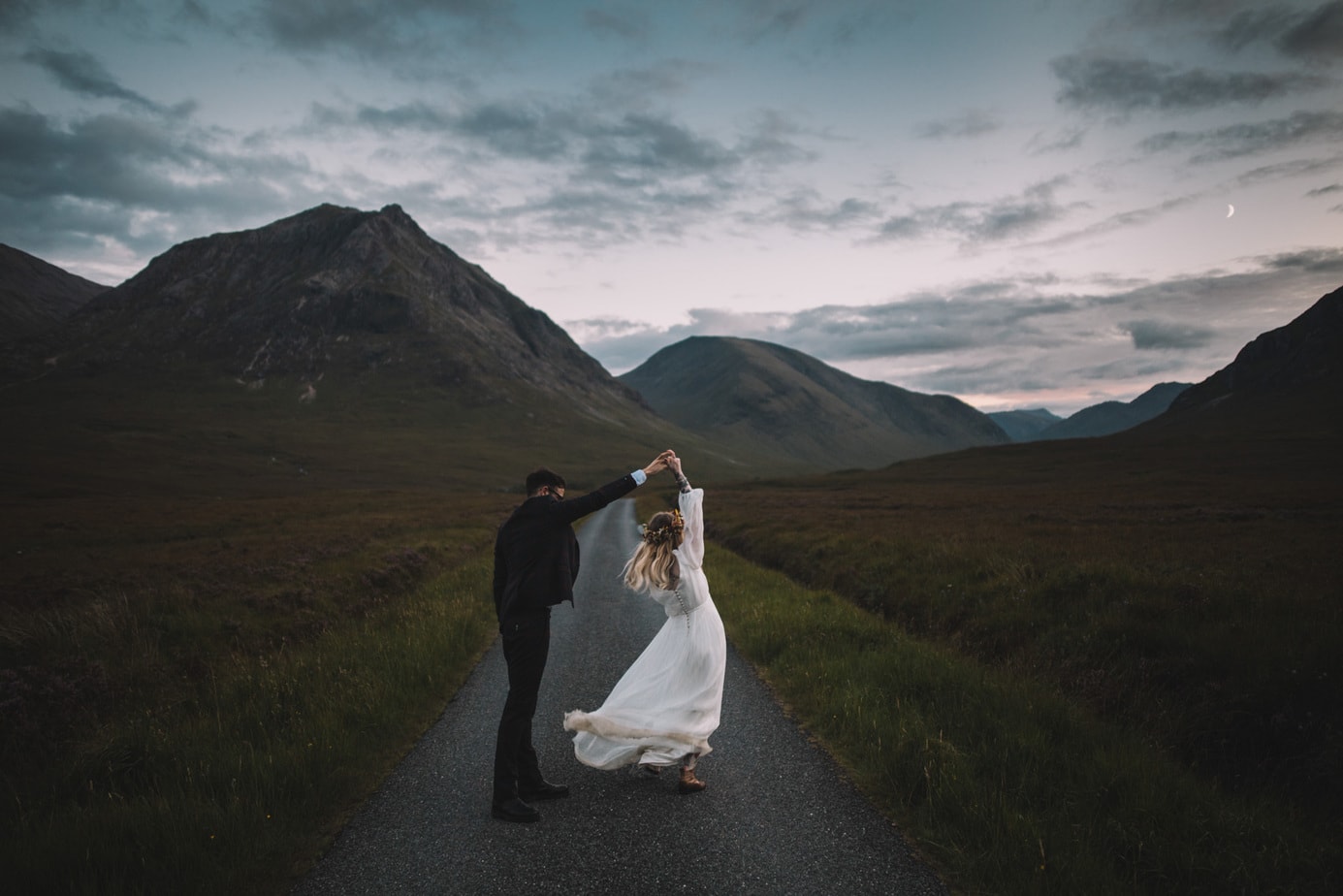 You can get married anywhere! That's right, anywhere. If your dream is a mountain top in the Highlands, then we can do that. If you want a fairy tale castle as your backdrop, then we can do that, or if you wish to elope in a secluded glen hidden away from prying eyes, then we can do that too. Scotland has it all; empty beaches, crystal clear lochs and ancient forests. On top of all that, the sunsets in Scotland will take your breath away. Scotland is a perfect place for your elopement. 
Where should you elope to in Scotland?
Scotland has endless riches when it comes to destinations. Here are some of my favourites.
Glencoe is a jewel of the Scottish Highlands. The spectacular mountain scenery was carved from ancient volcanoes and remains awe-inspiring to this day. You'll be able to drive the fantastic Glen Etive Road that you can see in the James Bond movie Skyfall and wander the idyllic forest at Glencoe Lochan. If you are a Harry Potter fan, then you can visit the site of Hagrid's hut and pretend you're at Hogwarts.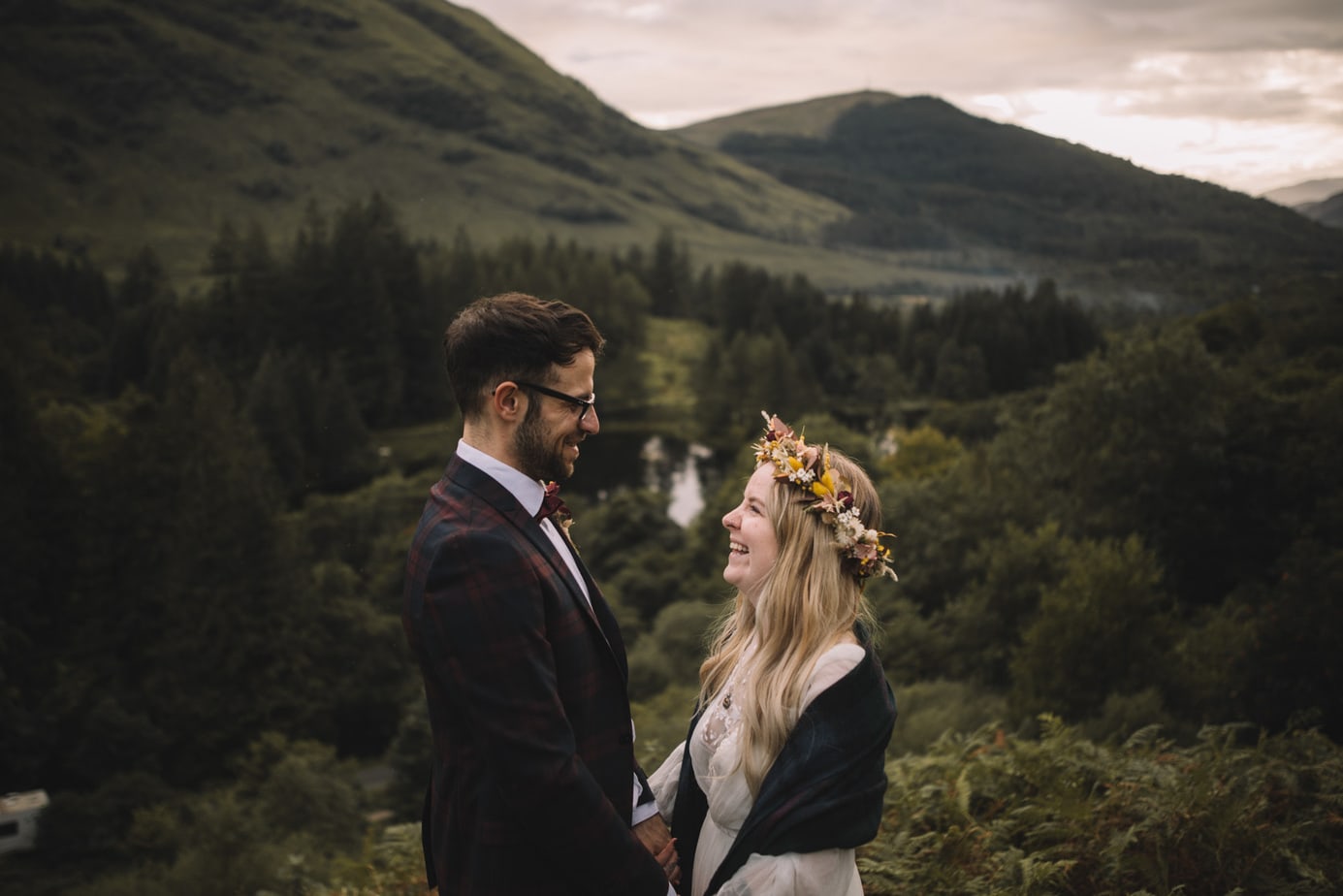 Skye has a dramatic history filled with stories of warring clans, bloody rebellions and escaping princes. You could elope to an ancient castle rich in Scottish history and take in some of the most beautiful scenery in Scotland. A visit to Skye isn't complete without a wander down the world-famous Quiraing walk and the Old Man Stoor; both will have you believing you've wandered into a fairy tale.  
Speaking of fairies, Skye is home to mysterious Fairy Glen; if you're very quiet, you may even spot one! 
Loch Lomond and the Trossachs
Loch Lomond is everything you imagine a Scottish loch to be; vast, tranquil and stunningly beautiful. You can spend your elopement hopping from one island to another and enjoying the sound of the waterfalls as they crash through the glens. The surrounding area is full of centuries-old oak woodland and the spectacular Munroe mountains. You could spend months here and never get bored. 
What about Scottish Castles?
If your dream of eloping includes castles, then Scotland has you covered in abundance. Here are three of the best: 
Kilchurn is a 600-year-old castle that now lies in ruins on a rocky outcrop at the end of Loch Awe (yes, it's really called Loch Awe!). The tumbled down walls provide a perfect backdrop to a Scottish elopement.    
If islands are your thing, then look no further than the majestic Eilean Donan. It sits proudly on an island where three Lochs meet and will give you an elopement that you will never forget. 
Finally, there is Dunnottar castle. This dramatic and evocative ruined cliff-top fortress was the home of the Marischal Earls, once one of the most powerful families in Scotland. Steeped in history, this romantic and haunting ruin is a dream elopement destination.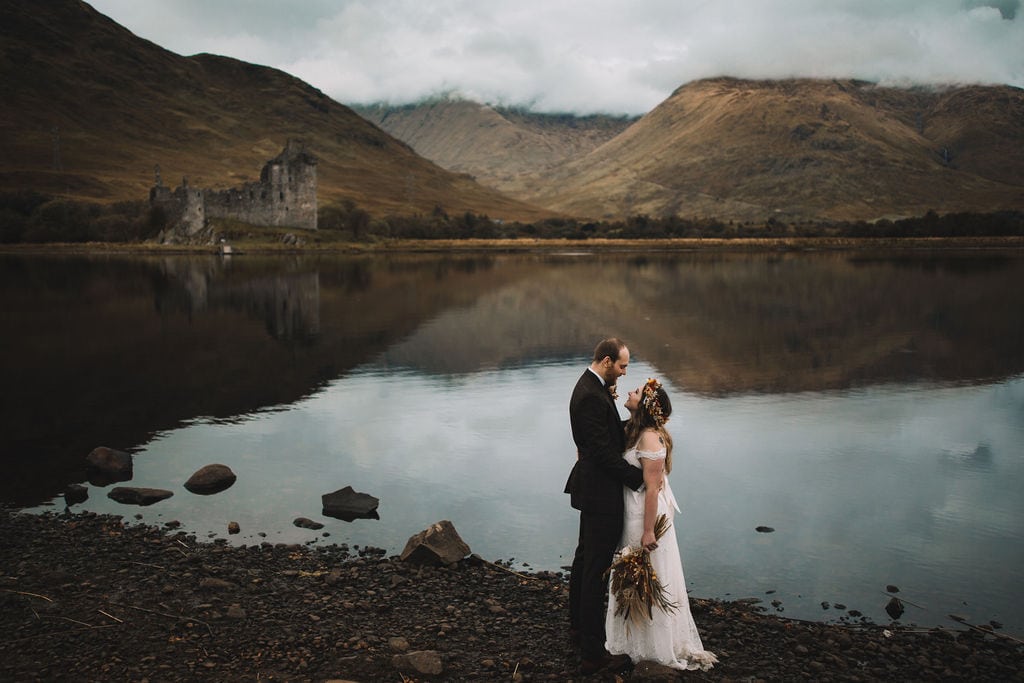 Don't forget the Scottish beaches!
When you think of eloping to Scotland, beaches might not be the first thing that comes to mind, but Scotland has some of the most pristine beaches in the world. The white sand and crystal clear waters of Achmelvich Bay in Lochinver will have you thinking that you've been transported to the Caribbean, except, maybe just a touch colder!  
If you prefer something a little wilder, then take a trip to Luskentyre Beach on the Isle of Harris. This vast area of sand dunes wraps around beautiful blue water.  
If your ideal elopement is walking barefoot along the sand, either of these beaches would be perfect.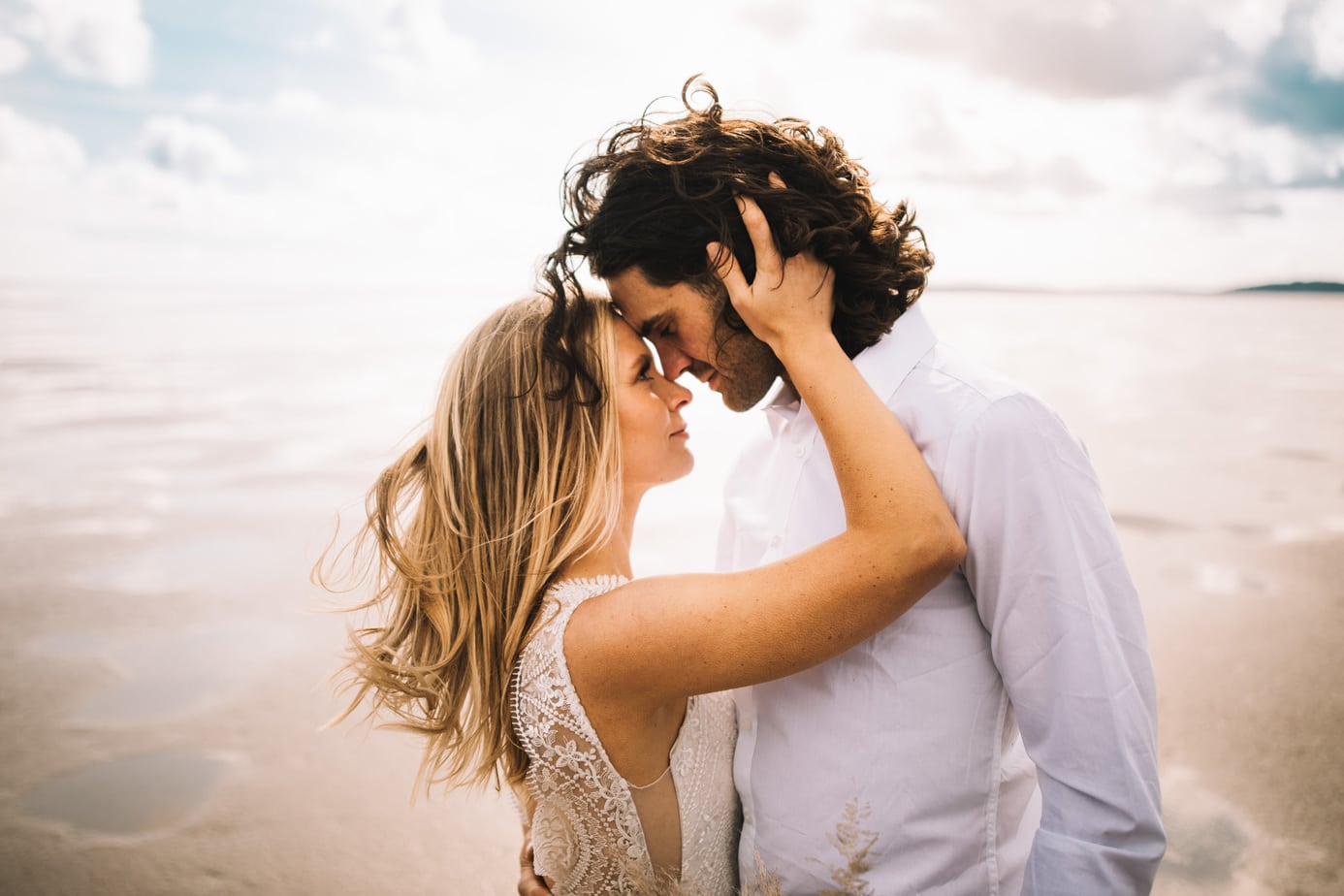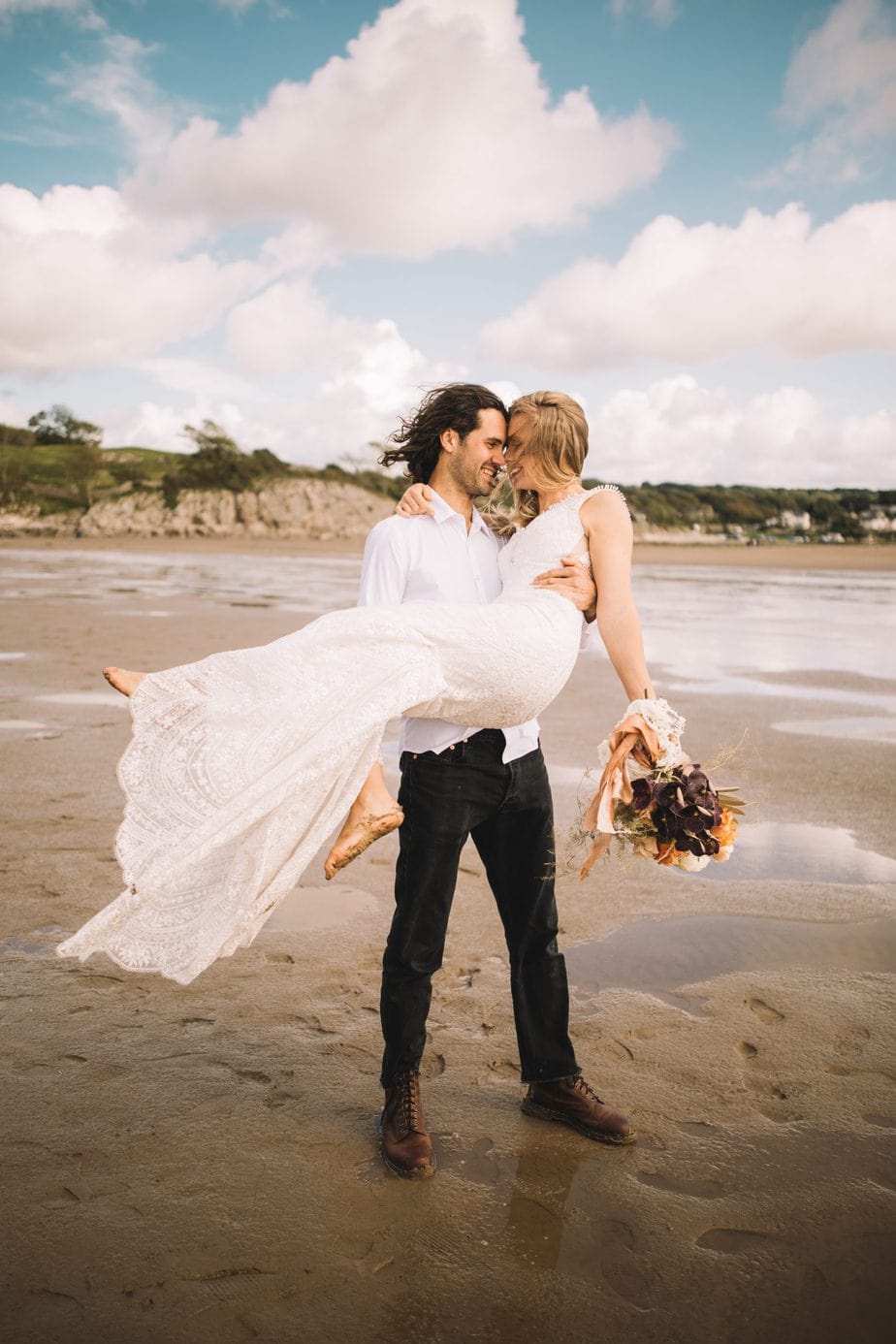 When should we elope to Scotland?
Scotland is beautiful all year round, as long as you're happy to embrace the weather. The spring months are an explosion of new life as the Highlands shake off the icy winter. The summer is spectacular as the warm sun lights up the glens, although it's also the tourist and midgey season, so if you're after a quieter elopement, then avoid this time.  
Autumn is probably my favourite time as the leaves turned golden, and the light on the Lochs becomes even more magical.  
If you're brave, then a winter elopement is something to consider. You are almost always guaranteed snow for the perfect winter elopement.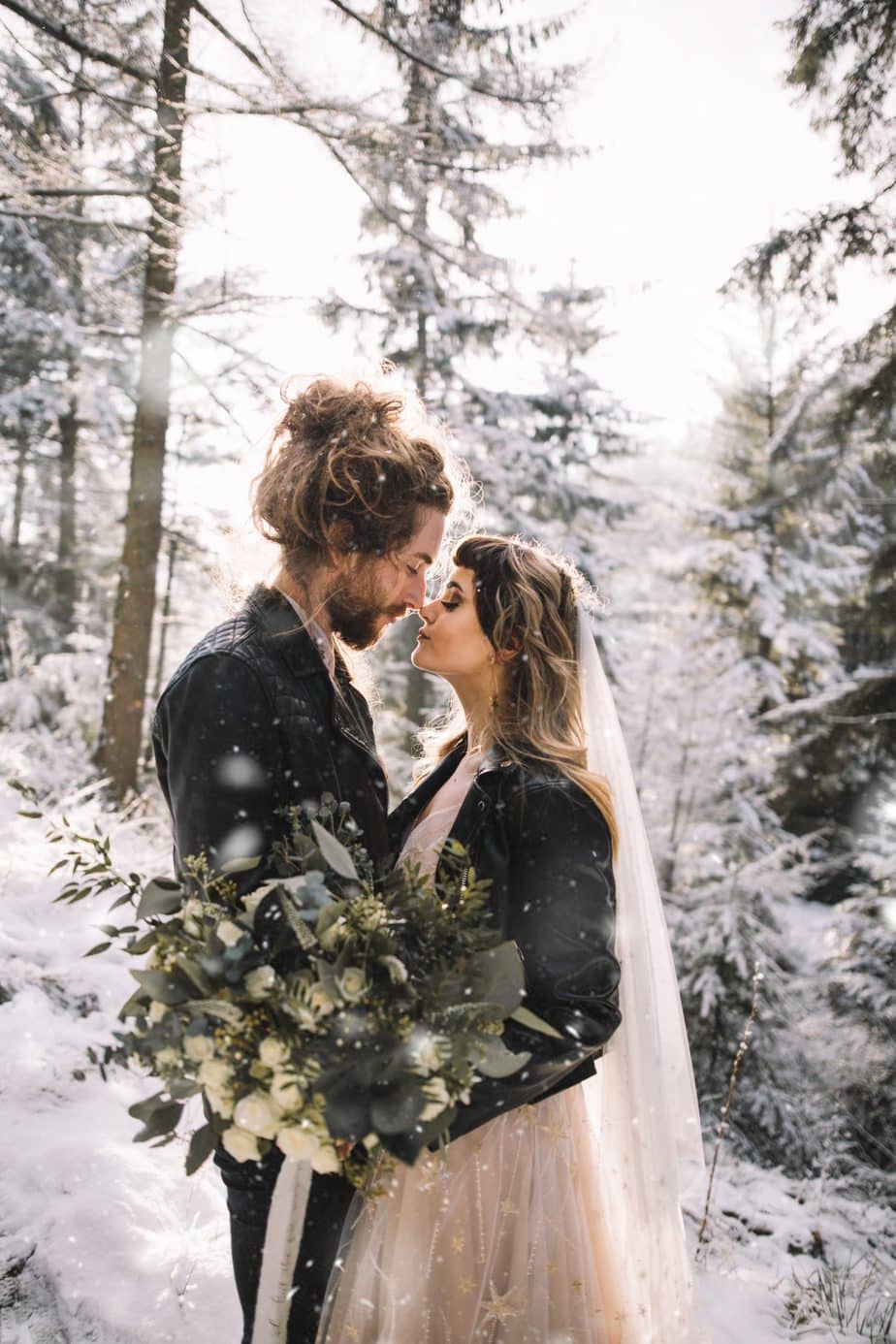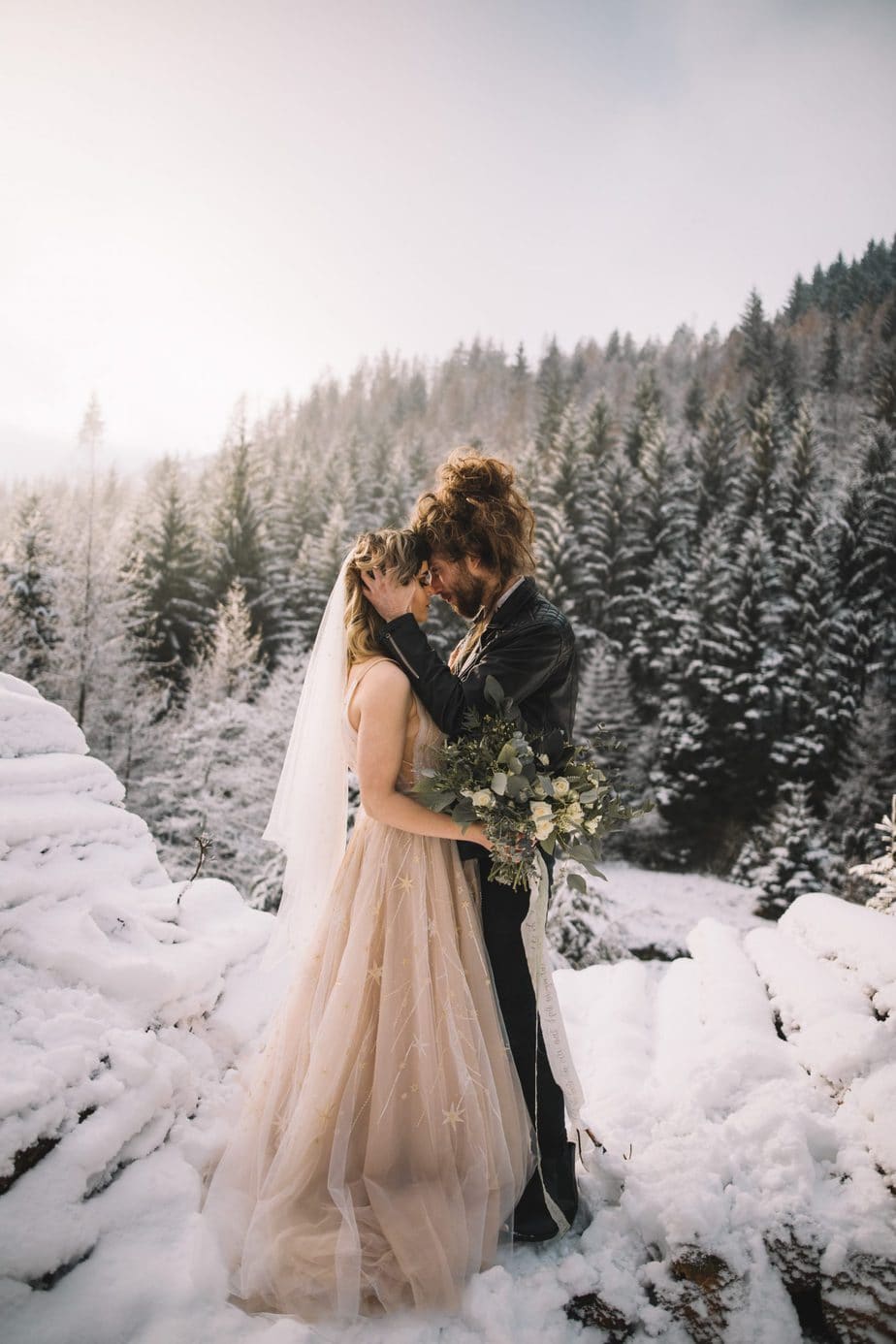 What about the legal part of eloping to Scotland?
Thankfully, legal marriage in Scotland is super easy. You can opt for a religious service of a humanist ceremony, and then all you need is a place, date, time and two witnesses.  
You can find the necessary paperwork here.
The Humanist Society Scotland is an excellent place to find a celebrant that you like and who can marry you at your chosen destination.
If you have anyone coming with you for the elopement, then they can serve as your witness. If not, then your photographer is an able stand-in.  We've even asked friendly passers-by to stop and act as witnesses, which adds something special to the elopement vibe.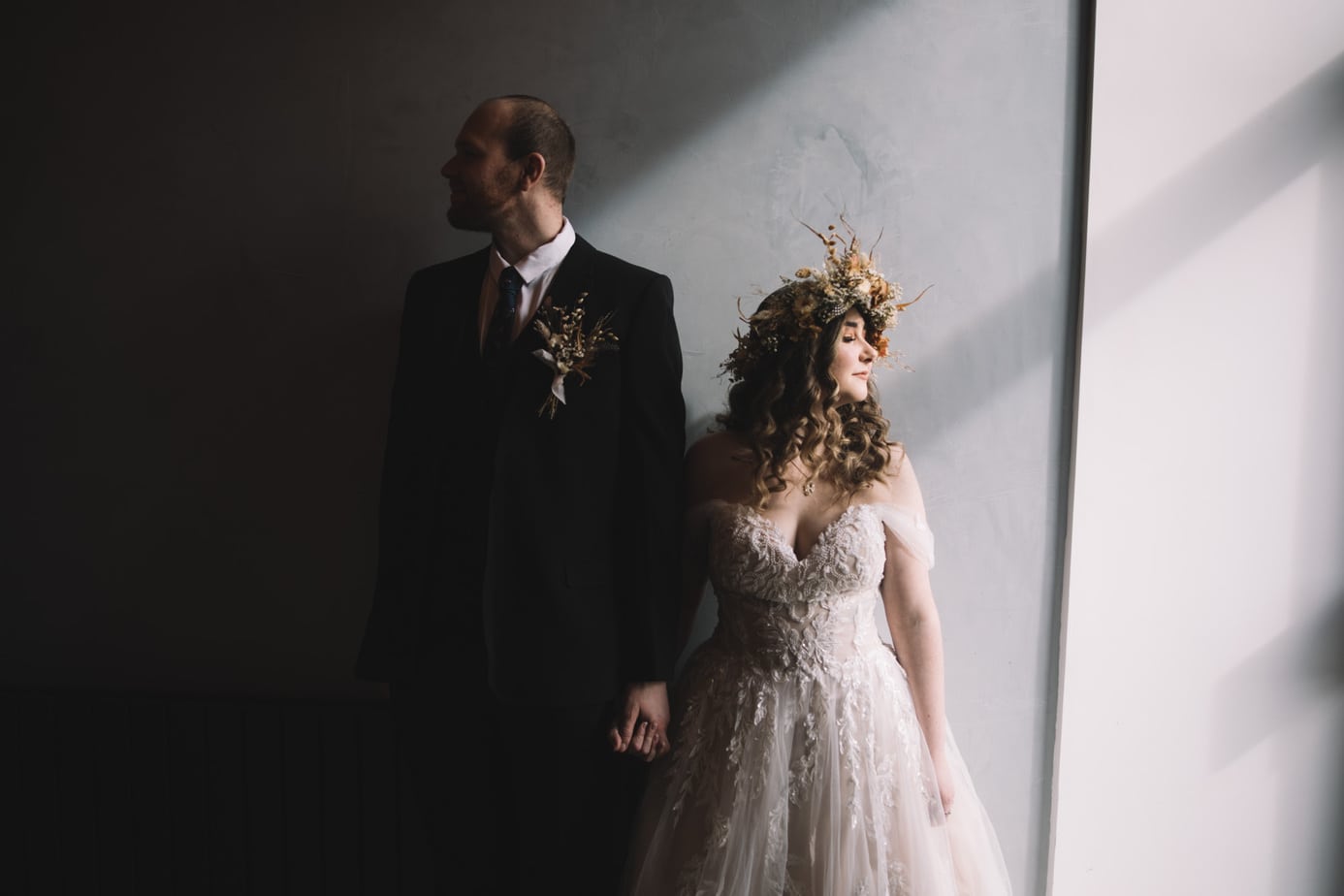 How do we get to Scotland?
Scotland has excellent flight links, especially from the USA and Europe. Edinburgh and Glasgow both have international airports that have regular flights. Alternatively, you can fly into Manchester and travel up from there. 
The high season tends to be in the summer and at Christmas. If you're flexible on dates, you can get some fantastic deals.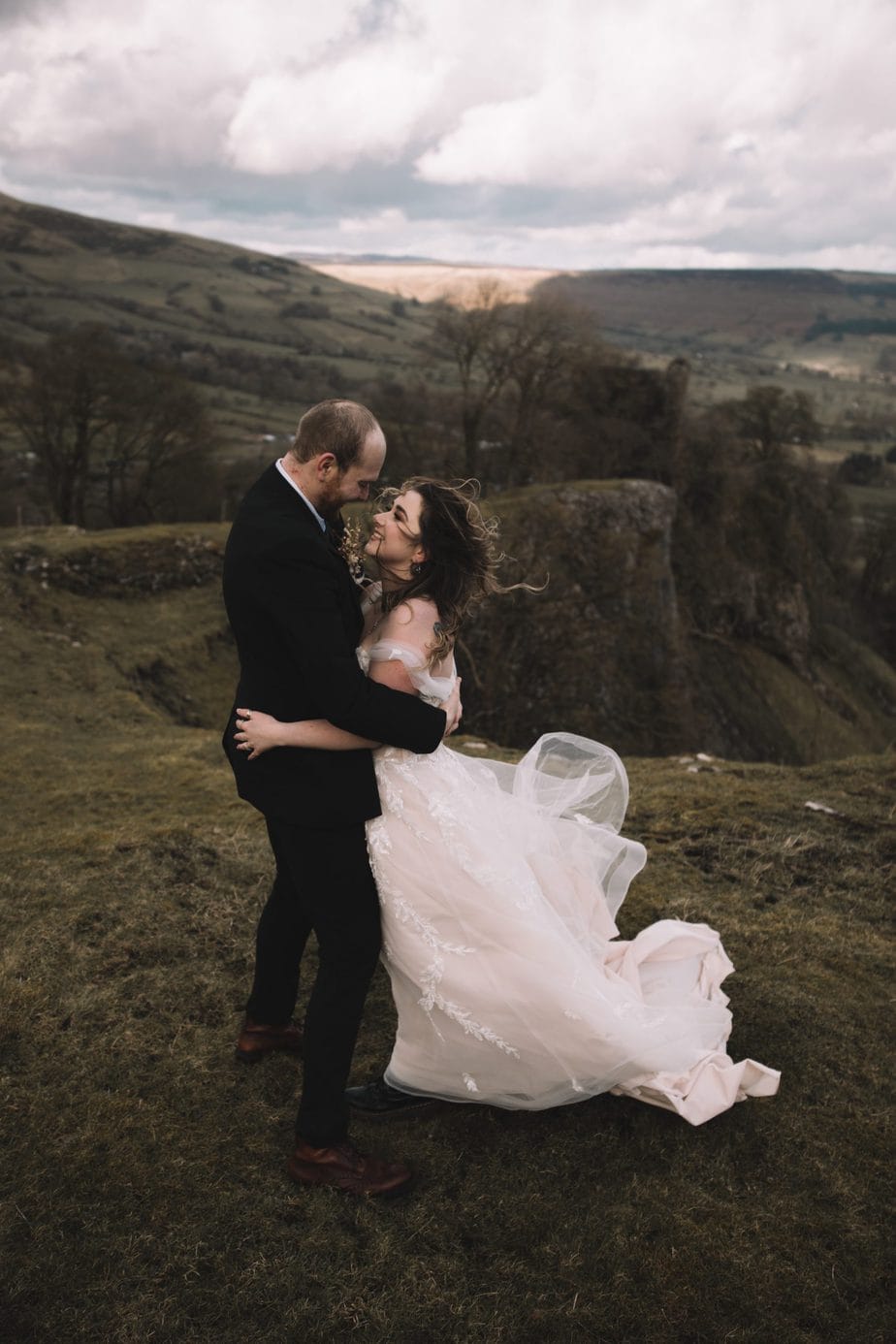 What about getting around Scotland?
Scotland has excellent public transport, especially between the major cities. However, the beauty of eloping to Scotland is the joy of getting off the beaten track. For this, you'll almost certainly need to hire a care. Thankfully that is a cheap and easy process. Each of the main airports has multiple hire options, as do the main cities and towns. It's well worth hiring and driving yourself around; the scenery is truly spectacular. 
Any other advice as I plan my Scotland Elopement?
Make it your own and do what makes you happy. This is your elopement, you're not trying to please anyone else, so do what you want to do.  
If you want a sunrise castle elopement, then so be it! If you'd love to walk barefoot on the sand and let the waves crash around you, then do that. Scotland is a wild place of great beauty; enjoy it, let it capture your heart, and you'll have the elopement you dreamed of.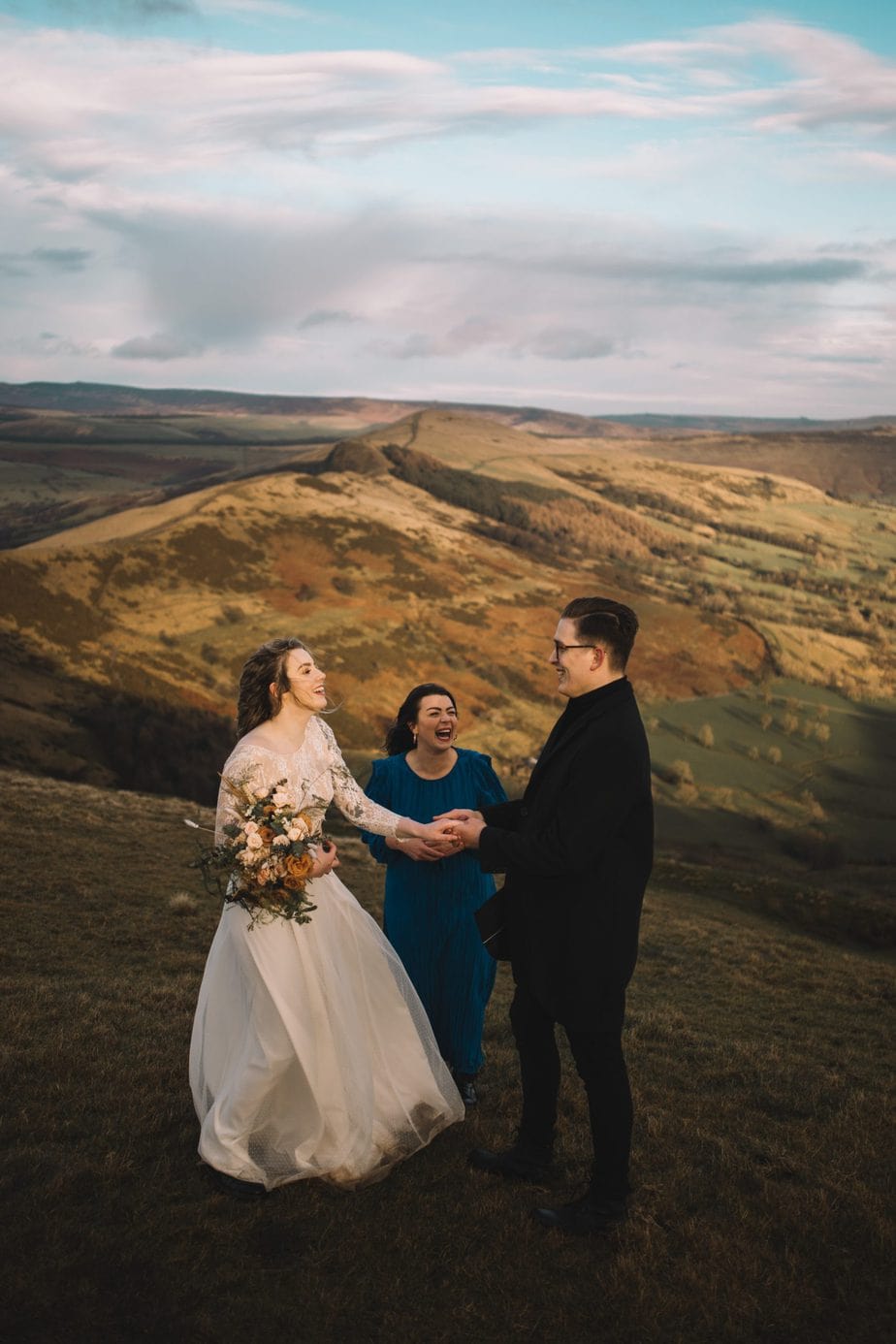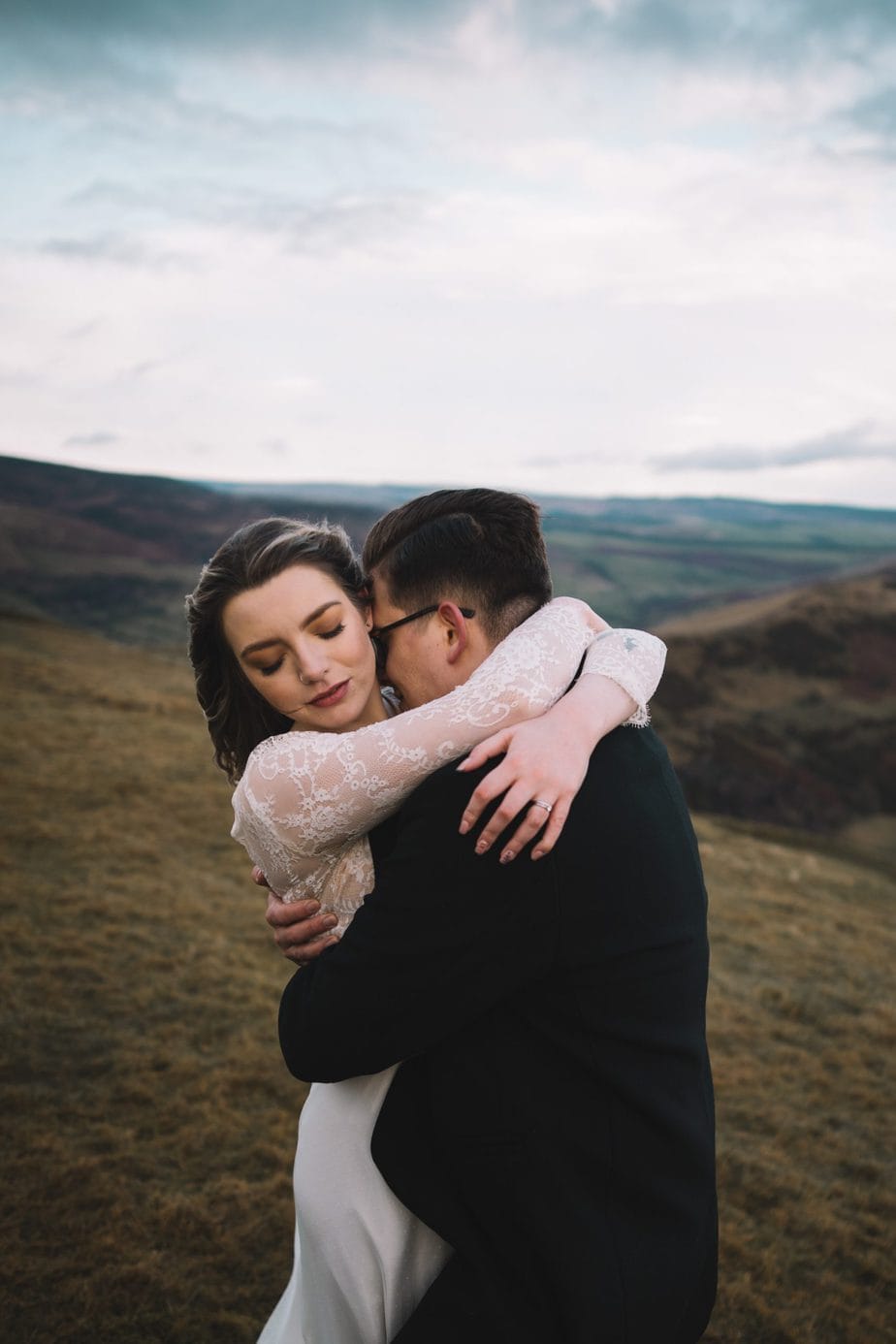 More Scotland elopement Inspiration

Lauren Elliott Photography
25 Mottram Moor, Mottram in Longdendale, Greater Manchester, UK, SK14 6LA